Chancel Choir & Vocal Ensembles
The Chancel Choir is the heart of our music ministry, leading the worship service in music and presenting anthems. This choir is non-auditioned and open to anyone high school-age and up. If interested, please contact the Director of Sacred Arts about sharing your vocal gifts and talents. Join us in praise and worship through song! The Chancel Choir rehearses once a week on Wednesdays at 6:30pm. Men's and women's ensembles rehearse every other month with times TBA.
The Sally Weston Hawie Artist Series brings in performing groups for worship concerts five to six times a year. Take a minute to look at all the various areas listed and let us know if you think you'd like to participate! You belong with us at Wesley!
Providing music for worship is one of the most spiritually meaningful and rewarding forms of ministry here at Wesley. Our Sacred Arts programs often weave together, creating a multi-faceted gem of discipleship and mission activity which touches hearts and lives, with or without lyrics. We strive for quality in our programs to enhance individual and corporate worship, with the ultimate goal of leading people to Christ, through music. We direct, coach, and teach our ensemble members to expect to grow in musicality and vocal strength, realizing each individual's unique music potential. Here at Wesley, we believe wholeheartedly that, "All God's children have a place in the choir!"
Realistically, we know that even though everyone may enjoy listening to music, not everyone wants to sing in the choir. Therefore, we encourage your participation in areas of music that are not limited to singing! We offer Sacred Arts programming which includes the visual arts, dramatic arts, interpretive dance, as well as instrumental music. We perform choir anthems each Sunday, with additional special seasonal and thematic programs throughout the year involving all ages. Wesley is the face of classical music as a favorite venue for performing arts groups in the Golden Isles, i.e., the Coastal Symphony and Arts Alive. Wesley also has its very own concert series titled in memory of Sally Weston Hawie. To view our Sally Weston Hawie Artist Series on March 13, 2022, featuring the Welsey Keyboard Team with Terry Readdick, click HERE.
Glynn Middle School Orchestra Concert

Wednesday, May 18 - 7:00pm

Directed by Ms. Misty Renard.

Sally Weston Hawie Artist Series

Monday, June 6 - 6:00pm

Featuring Mar Griffiths, British Ventriloquist & Inspirational Speaker

Sally Weston Hawie Artist Series

Sunday, July 3 - 10:45am

Featuring Endless Highway

Wesley Music Academy Camp

July 25-29, 9:00am - 12:00pm

Ages: Pre-K- 5th Grade (Completed)
Cost: $15
Registration: Click HERE

Maundy Thursday Last Supper Reenactment
& Choir Members

Director of Sacred Arts
Debbie McIlrath
Instruments at Wesley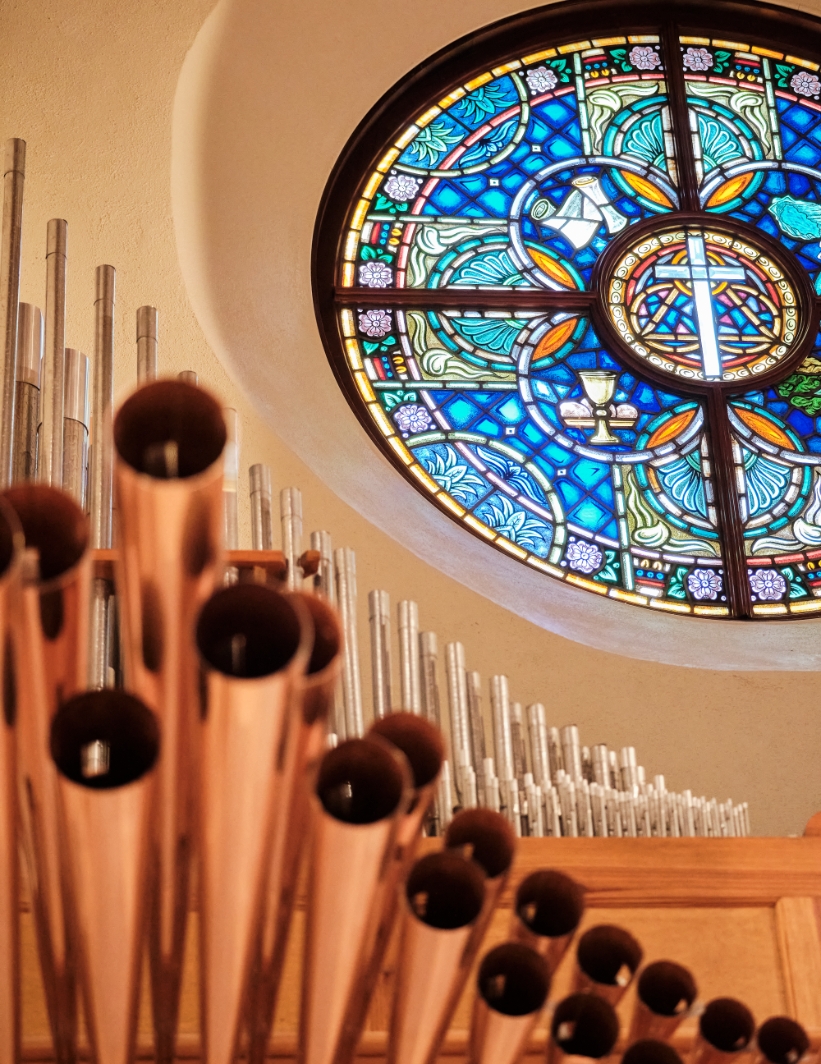 PIPE ORGAN
W. Zimmer & Sons, Inc. Pipe Organ Opus 521
Installed June 2005
3 Manuals, drawknob console, with 41 ranks
Over 2,500 pipes including a Trompette en Chamade
PIANOS
7' Yamaha C Concert Grand Piano in Sanctuary
5' Yamaha GC1 Concert Grand Piano in Music Suite
5' Baldwin Grand Piano in Chapel
Yamaha WX-7 Professional Series Upright (52in)
Yamaha upright piano in Wesleyan Heritage Classroom
OTHER INSTRUMENTS
5 Octave set of Malmark Handbells
5 Octave set of Malmark Handchimes
Orff instruments and other miscellaneous percussion instruments
29" and 26" Majestic Symphonic Hammered Timpani