Visit
Wesley is positioned on the north end of Saint Simons Island. The natural beauty of the area features majestic oak trees graced with beautiful Spanish moss, enhancing the architectural design of a church perfectly suited to its historic location. We are situated directly across from the Fort Frederica National Monument.
Staff
REV. DR. JERRY A. ROE, JR.

Senior Pastor

pastorjerry@wesleyssi.org

(912) 634-1412 x12

See Bio

Jerry grew up in many locations throughout the US. He and his wife, Gina, have two adult children, Joshua and Sean. Jerry is a graduate of Foothill High School in Tustin, California; The University of the State of New York; and Erskine Seminary in Due West, South Carolina (M-Div. and D-Min). Jerry has been a minister in South Georgia since 1992, serving pastorates in Oak Park, Alamo, Columbus (St. Mark), Byron, Springfield, and Americus. Jerry writes, "I pray that the shortest distance between heaven and earth will be experienced through our worship and journey with Christ here at Wesley."

PAIGE GOBER

Church Administrator

paige@wesleyssi.org

(912) 634-1412 x13

See Bio

Currently serving as Director of Program Ministries, Paige supports the various ministries of the church to include Bible study formation, nurture, and ministry outreach. She also helps in scheduling and executing various ministry events in the life of the church. Her passion for ministry is helping members of all ages find the joy and satisfaction of getting connected in the body of Christ through their gift of service and growth in Bible study.

Paige taught preschool at Wesley for three years prior to coming on as full-time staff in December 2000. She completed a degree in Early Childhood in 2007 at College of Coastal Georgia. She and her husband Scott live on Saint Simons. She has two children. Her daughter Tiffany Wieberg is married to Andy and lives in Gainesville, GA. Her son Hunter and his wife Paola live in Brunswick.

TBA

Director of Youth Ministries

(912) 634-1412 x14

SAMANTHA J. PEARSON

Director of Children's Ministries

samantha@wesleyssi.org

(912) 634-1412 x20

See Bio

Samantha is from Warner Robins, GA and graduated from the University of Georgia in 2009 with an A.B. in English. While in college, she developed a passion for youth ministry as an intern with The Gathering Place. She loves working with the teenagers at Wesley and getting to see them grow in their relationship with Jesus and share Christ's love with their community. Samantha is also a preschool teacher at the Wesley Academy of Early Learning.

DEBORAH MCILRATH

Director of Sacred Arts

debbie@wesleyssi.org

(912) 634-1412 x15

See Bio

Mrs. "Mac" teaches music at Sterling Elementary School and sponsors the after-school Chorus Club at Jane Macon Middle School. Debbie is a graduate of Georgia Southern University (Bachelor of Arts in Music/piano) and Valdosta State (Master of Music Education, Choral Conducting emphasis). She has taught music at every age-level for twenty-nine years, including adjunct instructor of piano and organ at Georgia Southwestern University. Her Elementary, High School and Middle School choirs have received numerous First Place Awards in choral competitions and Superior ratings at L.G.P.E. She has been an Honor Chorus Clinician for Camden County Elementary School Honor Chorus, Honor Chorus Rehearsal Host in Muscogee County, at Shaw High School, Orff Workshop Clinician, Honor Chorus accompanist, Shaw High School Fine Arts Department Chair and one of the Music Education supervising teachers, for Columbus State University undergraduate and graduate student teachers. Debbie is an honorary lifetime member of ACDA, and Tri-M Music Honor Society. She is also a member of MENC, GMEA, PAGE and a lifetime member of the United Methodist Women. She has also served as Organist at Perry UMC, Music Director at Reidsville, UMC, Waynesboro First UMC, interim at St. Mark in Columbus, Americus First and Brunswick First UMCs. Before COVID, she served as the organist at Lovely Lane Chapel, Epworth-by-the-Sea, and as Music Director at Ft. Frederica Presbyterian Church on Saint Simons Island. She is married to the Rev. Jim McIlrath, retired supply pastor at Taylors UMC. Debbie and Jim live in Brunswick and have three adult children, six grandchildren, and two little lap dogs.

VICTORIA FRYER

Associate Director of Children & Youth

victoria@wesleyssi.org

(912) 634-1412 x20

See Bio

Victoria is originally from St. Simons Island. She graduated from the College of Coastal Georgia in 2020 with a Bachelor of Science in Psychology with a concentration in Community and Organizational Leadership. She started attending Wesley in 1998 at the age of 4. Victoria has volunteered with the children at Wesley since she was 11 and has been working in the Children's Ministry department since 2016. She has worked as a summer camp counselor at Epworth by the Sea and has been a Gathering Place College Intern. Victoria has a passion for teaching and working with children of all ages. She enjoys reading, painting, watching movies, and spending time with friends.

BETH HUMBER

Organist Emeritus

b.humber@gmail.com

(912) 634-1412

See Bio

Beth served at Wesley as Organist/Associate Director of Music from 2003 to 2014, when she and her husband D.D. moved to Atlanta to be near family. In 2017, they returned to St. Simons and Wesley UMC, and Beth became Organist Emeritus and Handbell Director. She rejoined the staff and served as Interim Organist from 2017 to 2018 and as Music Assistant from 2019-2020. Beth remains Organist Emeritus and is active in the Chancel Choir and Handbell Ensembles.

EMILY LESTER

Director of Communications

emily@wesleyssi.org

(912) 634-1412 x 26

See Bio

Emily is originally from Sandusky, Ohio and is a graduate of Edison High School. She graduated from Columbia International University in 2020 with a Bachelor's of Science in Intercultural Studies and Bible. She has experience in multi-cultural church work and administration, and has a passion for missions, discipleship, and evangelism. Emily is married to Jacob, the Director of Audio-Visual Ministries, and they relocated to Brunswick from South Carolina. Together, they enjoy cooking, hiking, and watching movies, and they hope to one day have many doggies.

NIKKI BROWNING

Director of Wesley Academy

of Early Learning

nikki@wesleyssi.org

(912) 638-5072

See Bio

Nikki is passionate about Wesley Academy of Early Learning and its possibilities! She provides various services that help parents, teachers, and students to maximize their experience at our preschool. A big believer in Christian education, Nikki strives to build relationships with the families at Wesley through her contagious smile and warm spirit. When she is not helping the little "whales," she enjoys spending time with her husband, three children, and black lab.

ELAINE BROWN

Office Administrator

elaine@wesleyssi.org

(912) 634-1412 x10

See Bio

Elaine is originally from Decatur, Alabama, and graduated from Auburn University in 2004 with a Bachelor's of Science in Accounting and Business Administration. She and her husband, Adam, relocated to Brunswick in 2005 where she has gained considerable administrative experience over the past several years. Elaine and Adam have two boys: Connor and Whitt. Outside of the office, she volunteers with Cub Scout Pack 207 as a den leader and also serves as their treasurer. Elaine is thrilled to be joining Wesley and looks forward to building long-lasting relationships with the church family.

JACOB LESTER

Director of Audio-Visual Ministries

jacob@wesleyssi.org

(912) 634-1412

See Bio

Jacob is originally from Columbia, SC, and Columbia is where he met his wife during undergrad on a student organization where they served together. Jacob graduated from Columbia International University in 2019 with a B.A. in Bible Teaching and has served multiple churches in their student, family, and audio/visual ministries. Jacob has a passion for theology, teaching, and coffee. He desires to help people grow deeper in their understanding and love for Christ and looks forward to doing this while serving as the Director of Audio-Visual Ministries at Wesley. Ultimately his hope for this life and the one to come is found in Christ alone. "So we do not lose heart. Though our outer self is wasting away, our inner self is being renewed day by day. For this light momentary affliction is preparing for us an eternal weight of glory beyond all comparison, as we look not to the things that are seen but to the things that are unseen. For the things that are seen are transient, but the things that are unseen are eternal." -2 Cor. 4:16-18.

DAVID WOOD

Groundskeeper

(Independent Contractor)

dwood@wesleyssi.org

(912) 634-1412

See Bio

A lifetime resident of Saint Simons Island, David is married to Judy, and they have one daughter and three beautiful grandchildren. David has over 30 years experience in turf and ornamental maintenance and is a state-certified pesticide applicator. He loves spending time with his family, but he also loves his time on the grounds at Wesley. He considers it a blessing to not only serve the folks of Wesley, but also to be able to worship with them.
Beliefs
Theology of Worship
In worship, we GATHER together as a community set apart to worship together. We tell God's story as we PROCLAIM THE WORD through Scripture and preaching. We RESPOND to God's revelation in our lives through prayer, singing, affirming our faith, and Holy Communion. We are SENT FORTH to love and serve God in the world. Our worship follows a pattern of revelation and response: we learn of God and his message to us, and we respond through worship and discipleship. In this way, worship is a two-part dialogue with God.
History
Born of a Vision. Rooted in Tradition. Living Our Faith.
In October of 1986, Mr. Bill Jones III and the Sea Island Company gave ten acres of land to the South Georgia Conference of the United Methodist Church and ten acres to Christ Church Episcopal with the stipulation that each one would give an acre to establish and endow a garden in memory of John and Charles Wesley. Through the vision and leadership of the members of Saint Simons United Methodist Church and retired Bishop Frank Robertson, a new United Methodist congregation was constituted in May of 1987, to be located on the additional nine acres provided by this gift. With 117 members, the new congregation was officially named Wesley United Methodist Church at Frederica. Like the majestic live oaks surrounding us, our roots go deep in the history and tradition of John and Charles Wesley, the founders of Methodism, who lived and served in this part of St. Simons in the 18th century.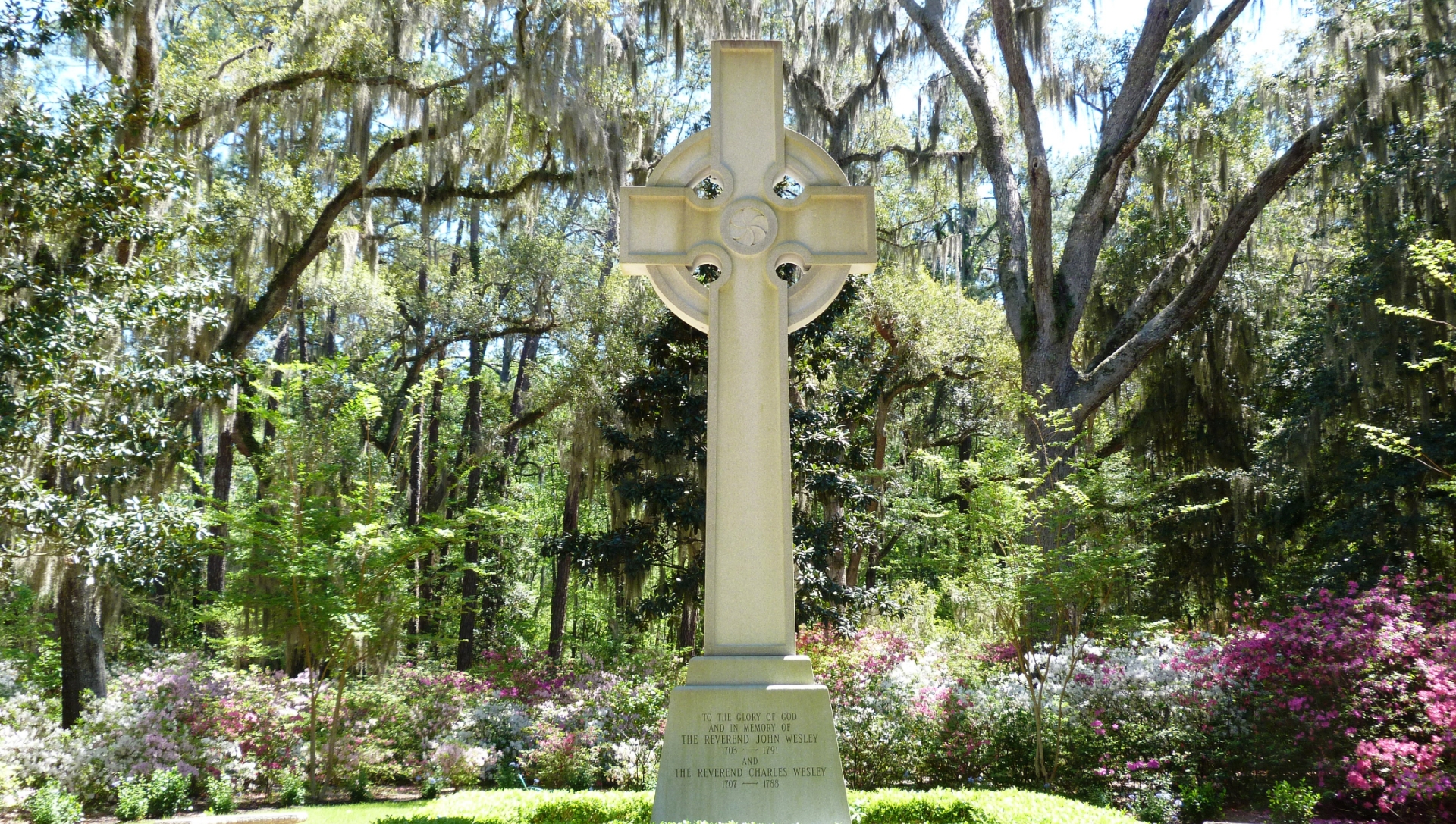 wesley gardens
The Wesley Memorial Gardens and Celtic cross monument were dedicated to John and Charles Wesley on June 12, 1988. This two-acre garden has over 60 varieties of native oak trees, plants, and shrubs, including more than 4,000 azaleas, which bloom around late March-early April. Located between Christ Church and Wesley United Methodist Church at Frederica, the gardens are an excellent place to meditate, pray, and seek the Lord. The 18-foot Celtic cross, made out of Georgia stone, also makes a beautiful backdrop for weddings and photography lovers. The gardens are open during daylight hours, free of charge, to the public.

COLUMBARIUM
Columbarium – a place for the respectful and usually public storage of cinerary urns.
(i.e., urns holding a deceased's cremated remains).
In memory of her late husband Bob, Dollie Dry made known her desire to donate funds to establish a columbarium at Wesley. Dollie and her daughter, Amy Dry Thomas, worked with well-known architect Lamar Webb on the design. The columbarium walls were inspired by the apse of the Wesley Sanctuary as viewed from the northern exterior of the building in which the rose window is set. Bill Edenfield added his landscape talents to complete the vision.
The Wesley Columbarium is located in the southern portion of the church property between the pond and the Wesley Memorial Garden, where three free-standing walls border a shell-inlaid paved square. The columbarium provides a beautiful, consecrated place for the inurnment of the cremated remains of members of the Wesley church and their families. This includes members, spouses, children, or grandchildren.
The cost of one niche is $1,500. Half of that amount is considered a tax-deductible donation; the other half is the fee. The fee provides for the niche, inurnment, and the nameplate. The Wesley Board of Trustees will provide perpetual care of the columbarium and grounds.
You may contact the church office at
(912) 634-1412 or churchoffice@wesleyssi.org
for questions, to set an appointment,
or to purchase a niche.